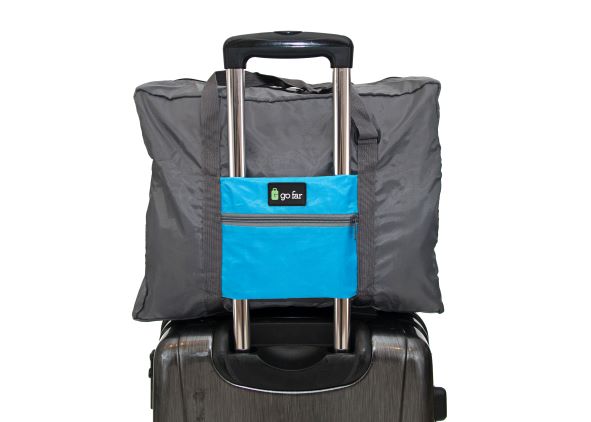 The Perfect Travel Accessories for Holiday Travel
It is that time of year again. Children are hustling and bustling around the house wondering when they'll be leaving for their relatives' houses to have their fill of holiday fun. And let's be honest, between your work schedule, scheduling meals and trying (and failing) to find a little time for yourself, you are looking forward to it too. While it could be easy, with some relatives living a hop, skip and a jump away, you're going to be hitting the road, kids in tow, flying home to be with family.
That's where we come in. Instead of going into a closet where you're faced with pulling your travel bags out from their hiding places, our Go Far travel accessories are going to be your best friends. Why? Instead of wrestling the luggage out of the closet, our accessories could easily fit in a smaller place.  Almost all of our accessories are compact, with some of our bags coming in satchels that could fit into the palm of your hand.
With airlines charging an arm and leg for storing your suitcases in the luggage compartment, if you were to use one of our pocket travel bags, you could easily slip one of the bags over the handle of your wheeling luggage and make the weight requirements for storage in the overhead compartment because these bags are durable and can take a lot of weight.
While on your flight, you may take advantage of the few moments of silence by curling up and taking a quick nap or by playing a game on your tablet. We got you covered here too: our 3 in 1 travel pillow not only is a pillow, but it can also be used as a tablet/iPad stand. And to sweeten the pot, it also comes with a little compartment to store your noise cancelling headphones or Airpods. This stand is a real life saver. If you are on the road and need a little help from your GPS, it will mount on the dashboard and if the kids are getting a little too restless, you can slip it over the head rest of your rental car and stream their favorite movie. Hopefully there won't be a challenge over what is watched.
Just when you find that you're able to relax a little bit with your family and enjoy yourself, you find that your trip is almost over. You're fairly certain you're about to burst when you find out that you have presents to take home with you. Sure, you could go to a delivery service to get your gifts home nice and safe, but there is no way you can ensure that your gifts won't get damaged or even worse, delayed. Because our bags are easily stored, you can have multiple bags in your suitcase, ready to go! Stash those holiday gifts in your bags and make way for the airport!
Just like the name of our brand, when you use our bag system, you will go far!
                                                                                          ~ Amanda Monell
---